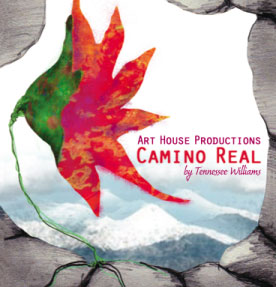 "Camino Real is a dream - one that will make you believe in the power of theater to transform the ordinary into extraordinary. Images of the play will stick with you long after the curtain has closed.
This is the second Art House production for Fred Backus who plays Kilroy. His Kilroy is slightly naïve, but it is his innocence that creates such an endearing character.
Ronnie Newman gives a stellar performance as Gutman, the discriminating and cold hotel manager.
Liz Douglas (Marguerite) and Chris Sena (Casanova) are magic together as two world-weary lovers clinging to each other.
Maria Silverman also gives a stand out performance as the gypsy.
Yet, the entire cast deserves notice in this ensemble production. Together (and often playing multiple roles!), the terrific cast has created haunting and evocative world." -Diana Schwaeble, Hudson Reporter
Other cast members include: Eytan Bayme, Steve Capo, Maggie Cino, Katherine Damigos, Jason A. Drago, Carlo Fiorletta, Sarah Ashford Hart, Richard Kirkwood, Nathan Kosla, Alicia Kurzer, John Mulcahy, Juliet O'Brien, D. Pedroza, Chip Peoples, Duncan Pflaster, Roland Ramos, David Ribyat, Heather Lee Rogers, and Cem Uyanik. The crew includes: Sean Brosnan (lighting designer), Don Heineck (technical director), Annie Kessler (production associate), Janine Slaker (video designer), Maeve Sweeney (stage manager), and Jeanne Zacarias (choreographer).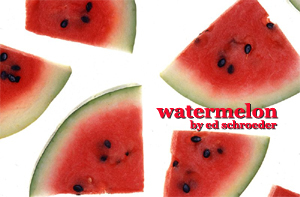 Art House Productions presents "Watermelon"
Starring Katherine Damigos, Judy Nunez, Trish Szymanski, David Ribyat
Written by Ed Schroeder
Directed by Christine Goodman
Carlo Fiorletta, Production Manager
Maggie Perrotta, Video
Jason Barbosa, Camera
John Stanitz, Video Graphics
Watermelon' was written by Jersey City native Ed Schroeder as part of a larger piece 'Water Is Strange'. This excerpt is a multi-media exploration of the future. Or more specifically, the unknown question of what comes next in life. The recurring theme here is one of throwing life's baggage over your head and letting the wind 'woosh it away forever'. Visually it was a treat with the use of video and eccentric choreography. Wonderful performances by David who played Ed, Katherine Damigos who played Rie and Judy Nunez and Trish Szymanski who were Rie's 'controllers'" ..what 'Watermelon' had was a complete cycle. A beginning, middle and end which made it work as a one-act offering that stood on its own."
- Stephen Bailey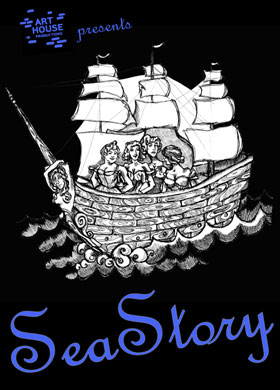 "Art House Productions' collaborators—Katherine Damigos, Christine Goodman, Jack Halpin, Richard Kirkwood, and Judy Nunez—bring to Jersey City a salty tale about burlesque beauties at sea—no, that's not it. A grim tale of male poets in drag—no, that can't be it. A crabby tale of an orphaned lesbian who's looking for love—hmm, maybe not...
..Just as we are nearing the end of this nautical adventure, and I think Ponton or maybe Judy Nunez as a sea spirit might steal the show, Margaret (Christine Goodman) reenters, and commands some clouds, and our attention.
..Margaret's second-in-command, McKenzie, played by Helene Taylor...
tough-as-nails Billie (played by Janice Ducate); neurotic Hopper (Katherine Damigos); bubbly and well-meaning Evelyn (Jen Ponton); Bob, a poet in drag (Malachy Orozco); the harbormaster (Ron Leir); the dockworker (David Ribyat). So many characters at sea and for the most part they all work well...Ducate and Ribyat delight.." -Reagan Wilson, nytheatre.com